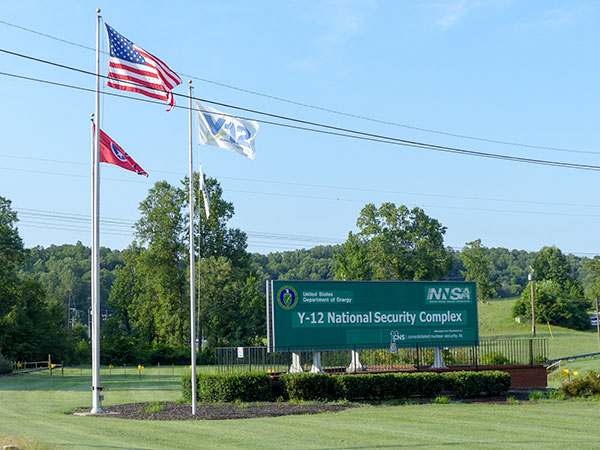 The Y-12 National Security Complex has deployed a system to counter unauthorized drones. Y-12 produces parts for nuclear weapons and stores highly enriched uranium, among other guarded national security missions.
Oak Ridge Today reported in November 2018 that Y-12 was one of four sites housing special nuclear materials where the National Nuclear Security Administration was deploying systems to counter drones. Deployed by the Office of Defense Nuclear Security, the systems have the capability to detect, identify, track, and intercept unsanctioned and suspicious drones, the NNSA said in 2018. At that time, one system had already been deployed at Los Alamos National Laboratory in New Mexico.
The NNSA announced in a press release Monday that the system to counter unauthorized drones had been deployed at Y-12. The Y-12 system is intended to detect, identify, and track potentially malicious threats posed by drones, the NNSA said.
"The National Nuclear Security Administration Production Office (NPO) is announcing this deployment and the airspace restriction to the public to minimize the threat of unauthorized UAS (unmanned aircraft system) flights over Y-12," said Teresa Robbins, NPO manager. "This will enhance our ability to effectively protect this vital national security facility."
It wasn't immediately clear Monday afternoon how many other NNSA sites are now using the drone-countering systems to enforce "no drone zones."
Oak Ridge Today reported in December 2017 that the Federal Aviation Administration and U.S. Department of Energy had agreed to restrict drone flights over Y-12, Oak Ridge National Laboratory, and five other federal sites. It was the first time the FAA has placed specific airspace restrictions for aircraft without crews, or "drones," over DOE sites. It's not clear if any other DOE sites have had drone flights restricted since then.
The NNSA said a drone poses a threat, as defined by the FAA, when there is a reasonable likelihood that it could harm someone, damage property or systems, interfere with operations, conduct unauthorized surveillance or reconnaissance, or result in unauthorized access to, or disclosure of, classified or protected information. The NNSA said it has legal authority from Congress to protect its facilities using a program to counter drones under the 2017 National Defense Authorization Act.
"NNSA welcomes assistance from the local community and UAS operators to help ensure the safety and protection of the Y-12 site and its personnel from unauthorized UAS activities," the press release said. "NNSA will educate the public about the 'no drone zone' by installing signage around the Y-12 site perimeter notifying the public about airspace boundaries in which UAS may not be flown. UAS operators who violate the airspace restrictions at Y-12 may also be subject to enforcement action, including potential civil penalties and criminal charges. NNSA and contractor officials are working closely with federal, state, and local law enforcement to coordinate any necessary enforcement actions. Advertisements and social media messages will also be issued to remind the public of these restrictions."
The NPO oversees operations at two NNSA sites: Y-12 and the Pantex Plant near Amarillo, Texas.
FAA's regulations on UAS and counter UAS measures can be found here.
More information will be added as it becomes available.
Most news stories on Oak Ridge Today are free, brought to you by Oak Ridge Today with help from our advertisers, contributors, and subscribers. This is a free story. Thank you to our advertisers, contributors, and subscribers. You can see what we cover here.
---
Do you appreciate this story or our work in general? If so, please consider a monthly subscription to Oak Ridge Today. See our Subscribe page here. Thank you for reading Oak Ridge Today!
Alternatively, you can donate to support our work here. Thank you for your support!
Copyright 2021 Oak Ridge Today. All rights reserved. This material may not be published, broadcast, rewritten, or redistributed.