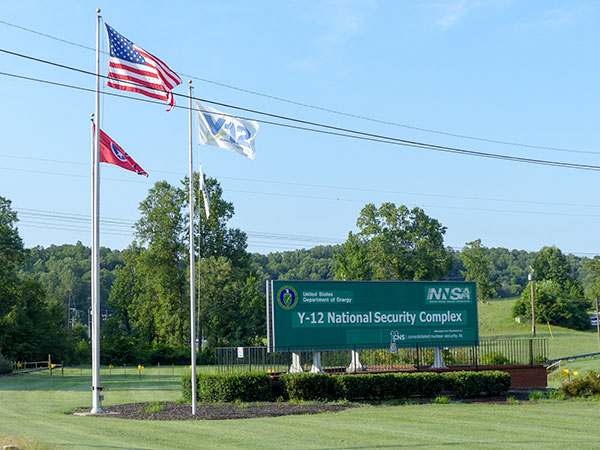 The Consolidated Nuclear Security employee who tested positive for COVID-19 on Monday left work at the Y-12 National Security Complex after becoming ill on Thursday, March 19.
In response to questions on Wednesday, CNS did not say where the employee worked at Y-12 or if they know how the worker was infected.
CNS said the employee has been isolated at home after receiving the positive COVID-19 test result, and the plant's medical staff are coordinating with the Tennessee Department of Health.
"The employee's work location was disinfected along with all other locations the employee is known to have visited," CNS said. "The employee's activities were reviewed, and everyone who is known to have come into direct contact with the employee in the two days prior to the development of symptoms is being contacted and asked to self-quarantine for 14 days, per the Centers for Disease Control and Prevention's (CDC) guidelines."
Y-12 said it does not currently expect production to be affected.
"All COVID-19 responses are coordinated by CNS's Pandemic Advisory Team, which includes senior leadership from health and safety, emergency management, human resources, safeguards and security, and communications," CNS said. "While remaining operational, we are following CDC guidance to protect our workers' health. The sites have increased cleaning and disinfecting high traffic areas and are conducting meetings by teleconference or Skype whenever possible. Social distancing is encouraged, and we are introducing measures to reduce the plant population through teleworking. Other steps are being taken or are being considered to further protect workers."
More information will be added as it becomes available.
You can contact John Huotari, owner and publisher of Oak Ridge Today, at (865) 951-9692 or [email protected]

Most news stories on Oak Ridge Today are free, brought to you by Oak Ridge Today with help from our advertisers, sponsors, and subscribers. This is a free story. Thank you to our advertisers, sponsors, and subscribers. You can see what we cover here.
---
Do you appreciate this story or our work in general? If so, please consider a monthly subscription to Oak Ridge Today. See our Subscribe page here. Thank you for reading Oak Ridge Today.
We also accept donations. You can donate here.
Copyright 2021 Oak Ridge Today. All rights reserved. This material may not be published, broadcast, rewritten, or redistributed.