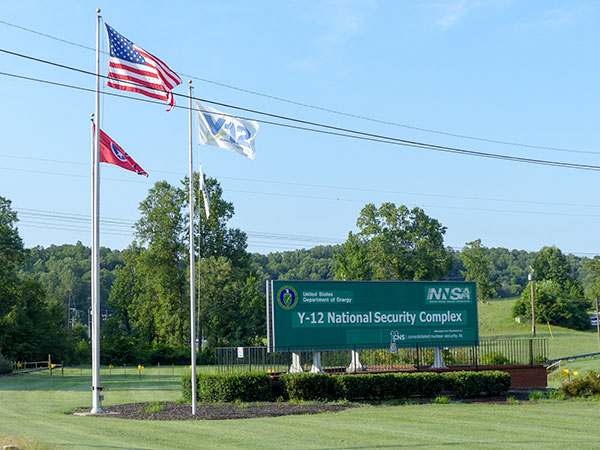 A contract worth $2.8 billion per year has been awarded to Nuclear Production One LLC to manage and operate the Y-12 National Security Complex in Oak Ridge and Pantex Plant in Amarillo, Texas.
The U.S. Department of Energy's National Nuclear Security Administration announced the contract award on Monday.
NPOne is a limited liability company that consists of Fluor Federal Services Incorporate and AECOM Energy and Construction, an Amentum company, a press release said.
"For over 40 years, the Pantex Plant in Amarillo, Texas has been the nation's primary nuclear weapon assembly, disassembly, and life-extension center," NNSA Administrator Jill Hruby said in the press release. "The Y-12 National Security Complex in Oak Ridge, Tennessee, has been strengthening our national security and reducing the global threat from weapons of mass destruction since 1943. I look forward to NPOne helping us accomplish our mission."
The contract includes a four-month transition period starting in December 2021 and a five-year base period with five, one-year options, for a total contract period of up to 10 years if all options are exercised, the press release said. It said the estimated value of the contract is $2.8 billion annually.
"NNSA has designed the contract and transition period to minimize the impact on workers at Y-12 and Pantex," the press release said. "Aside from a handful of top managers, the contract requires NPOne to offer positions to all current employees it deems necessary for completing the requirements of the contract, and offer the same pay to all employees who remain in their current positions. NPOne will also be required to become the sponsor of the existing retirement benefit plans and must permit incumbent employees to remain in those plans."
The current management and operating contract for Y-12 and Pantex, which is held by Consolidated Nuclear Security, LLC, expires on March 31, 2022, and allows for an approximately four-month transition period, "which will provide stability for the workforce employed under the current contract and ensure efficient continuity of operations," the press release said.
Y-12's activities include storing most of the nation's weapons-grade uranium and producing bomb components known as secondaries, which are part of two-stage thermonuclear weapons.
The NNSA is part of DOE, and it maintains the U.S. nuclear weapons stockpile, works on nuclear nonproliferation, and provides fuel for naval nuclear reactors, among other activities.
More information will be added as it becomes available.
Most news stories on Oak Ridge Today are free, brought to you by Oak Ridge Today with help from our advertisers, contributors, and subscribers. This is a free story. Thank you to our advertisers, contributors, and subscribers. You can see what we cover here.
---
Do you appreciate this story or our work in general? If so, please consider a monthly subscription to Oak Ridge Today. See our Subscribe page here. Thank you for reading Oak Ridge Today!
Alternatively, you can donate to support our work here. Thank you for your support!
Copyright 2021 Oak Ridge Today. All rights reserved. This material may not be published, broadcast, rewritten, or redistributed.